Podcast: Play in new window | Download
Subscribe: Apple Podcasts | Android | | More
Michael E. Thornton Medal of Honor Recipient shares his story on the OSR podcast.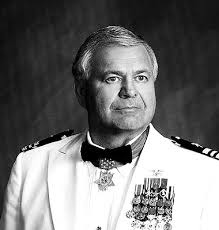 Michael E. Thornton, a native of South Carolina, enlisted in the United States Navy in 1967. He entered basic training at the Naval Training Center, San Diego, California.
He was selected for specialized training in Basic Underwater Demolition training in Coronado, California and the Navy's elite SEAL community.
Upon successful completion of training, he was assigned to SEAL team ONE based in Coronado, California from 1968-1974. During the period of October 1968 to January 1973, he completed several tours of duty in the Republic of Vietnam and Thailand.
During this time, he was the recipient of numerous awards. His most prestigious decoration was  for heroic actions on his last tour of duty in Vietnam which.  This resulted in saving the life of a fellow SEAL. For this action during a reconnaissance and intelligence gathering mission, he received this Nation's highest award, the CONGRESSIONAL MEDAL OF HONOR.
From 1974 to 1977 he served as an instructor at the SEAL training command in Coronado, California. In 1977 he transferred to SEAL team TWO in Little Creek, Virginia where he was the senior enlisted (man) in an operational platoon and also served as an instructor for SEAL Basic Indoctrination. In 1978 he deployed to the United Kingdom to serve two years with the Royal Marine British Special Boat Squadron in an exchange billet.
Upon completion of his successful tour with the British, he returned to help establish and operate with SEAL Team SIX. Here he was instrumental in developing new and innovative operational techniques and hardware that formed the foundation for future unique special operations missions.
In June 1982, Lieutenant Thornton received his commission as a United States Navy Ensign. He completed Basic Officer Diving and Salvage Training and immediately thereafter was assigned as the Officer-in-Charge of the Second Class Dive School at the Little Creek Amphibious Base in Norfolk, Virginia. In January 1986, he reported to the USS Edenton (ATS-1) as the First Lieutenant and Diving and Salvage Officer for Combat Support Squadron Eight, at Little Creek. In April 1990, Lieutenant Thornton reported as Bravo Company Commander where he coordinated a rapid response deployment in support of DESERT SHEILD/ DESERT STORM.
In May 1992, Lieutenant Thornton retired being the last Congressional Medal of Honor recipient serving on active duty in the Navy.
Lieutenant Thornton's personal decorations include:
- The Congressional Medal of Honor
- Silver Star
- (3) Bronze Star Medals with Combat "V"
- Purple Heart
- Meritorious Service Medal
- (3) Navy Commodation Medals with Combat "V"
- Navy Achievement Medal
- The Combat Action Ribbon with Gold Star
- The Vietnamese Service Medal with one Silver Star and
- Two Bronze Stars
- as well as, numerous unit citations
(This information was taken from www.mike-thorton.com)
To date there have only been 3,465 Medal Of Honor Recipients in the history of the award.  Currently there are only 80 living recipients of this award.
I interviewed Lt. Thornton on July 4, 2013.  I wanted to share his story on our country's Independence Day.  Its a true honor to have Lt. Thornton come on the Operation Self Reset Podcast.
In this session you'll discover:
-Why Lt. Thornton wanted to join the Navy Seals.
-Whether he felt the Navy was his calling once he knew he wanted to join the military.
-What type of values and mental toughness Lt. Thornton learned from the military.
-Why we should never give up.
-How to set goals that are achievable and then set more goals.
-Why you don't need to be great to get started.   You can grow and become great.
-What this expression means: If it's up to me, it's meant to be.
-How to be loyal and get respected and why that is important.
-Why teamwork is key to success.
-What drives us to become our personal best.
-How Lt. Thornton feels about the Navy Seals in the media.
-Why loyalty, dedication, passion, purpose, and teamwork play important roles in our lives.
-Why we live in the greatest country in the world.
Please say thank you to Lt. Thornton.
I want to do something different for Lt. Thornton.  He took time out of his busy schedule to talk with us and share some amazing insight into values, the Navy Seals, and tips on how we can live a better life.
If you have a second, please leave a comment below letting Lt. Thornton know how much you appreciate the information he shared, what you gained from his appearance on the podcast, or just to say thank you to a true American hero for his service to this country.
All of the comments will be combined and sent to Lt. Thornton.  I feel this is a great way to say thank you.  If you leave a comment, please leave your name, city and state, and any other information you want to share.
This is your time to say thank you to a man who has done so much for this country and continues to speak on behalf of all the men and women who continue to keep this country free.
Links:
Video from Medal Of Honor Book http://www.workman.com/products/9781579654627/
[spoiler]
Welcome to Operation Self Reset. My name is Jake Nawrocki, and today is July 4, 2013. I have an amazing interview with Michael Thornton. He is a Medal of Honor recipient and one of the original members of SEAL Team 6. I want to start this interview on the right foot. Because it is Independence Day, I want to share with you guys the singing of the National Anthem by the crowd at the Boston Bruins hockey game. This was taken only a few days after the Boston Marathon bombing. Before the National Anthem was sung, they gave a slideshow of all the tragic events and graphic images that happened on that horrible, horrible day. The crowd united and sang this National Anthem so powerfully I had to share it with you guys. Please enjoy.
[National Anthem 00:46 to 02:40]
I hope you guys had a couple of chills going down your spine. Every time I hear that now, I personally do. I was lucky enough to see that the night it was aired especially with all the tragic events that happened in Boston, and for the crowd of 50,000+ to unite and sing that together was truly inspiring. I wanted to share that with you guys on July 4, 2013, here because this is our Independence Day. If you guys have a second, please tip your hat to all the men and women that have served this country since the beginning, everything, and everybody in between. Not only the men and women that have served in the military but for the people keeping this country great and going to continue to make it great. So thank you to everybody that has pitched in and continued to make this country awesome.
So today on the podcast, we have Michael Thornton, a Navy SEAL. He has received the Medal of Honor in 1972 for his actions in Vietnam, and he has quite the array of medals and awards that he has won over his time in the service. Because Michael Thornton's time is literally so precious and I was talking to him and interviewed him while he was in the airport traveling around the country. I figured instead of—I don't want to say wasting time—but instead of using the time towards his story that's all over the internet and all over on YouTube, I decided to record the audio version of his story. I got this from YouTube. The people who made this is called the Medal of Honor Book. You guys can purchase the book. I have a link to the YouTube video and the link to buy the book. I do not want to take credit for this, but I am giving credit where credit is due to the people at Medal of Honor Book for putting this together. It's the audio version of Michael Thornton, the story of how he received the Medal of Honor, his heroic actions in 1972 in Vietnam and here it is.
On October 31, 1972, with the war winding down and few American troops left on the ground, Thornton was sent in with four other SEALs on a night mission. They were to gather information on the North Vietnamese and their inexorable advance to the south.
Tommy Norris was the senior SEAL on the ground. Myself and Tommy and three Vietnamese SEALs, two which I had picked, I hand-picked them. On two different tours I had been to Vietnam, and both these guys had worked for me and they sent a young Vietnamese SEAL also with us. And what they were going to do is they were going to take two Navy Destroyers, and these guys are sitting off the shoreline when they shoot what they call a vector with their radar. Later on we found out the ship to the south of us shot the vector almost two degrees to the north so when this went like this it went to the north, they put us almost into North Vietnam. So we slipped into this boat, paddled [unclear 05:29] through the water, then we slipped into the water, then we swam the rest of the way into the shore. So there we are patrolling all through. Tommy's on point. We've got the three Vietnamese at the middle, and I'm at rear security. And we're walking through areas that had been no way in hell they could've built all this stuff up in two months. So right then we knew we were way north.
So we're heading back out to the east. To the south we could see this village. Heard dogs barking and stuff like that. We looked off to our left and there's a big, gigantic lagoon to the north of us. So we wanted to get as far away as we could from the village, so we moved down the beach even though we were going north, and we knew we were going in the wrong direction. We thought we'd move down that way. So we went through about four sets of sand dunes, and we came to this one gigantic sand dune which stood by itself. Tommy got on the radio. Well, Quan comes crawling up and says, "Mike. Mike." And he goes like this and points out this way and means he sees two enemies. So I took Tai and I gave him a hush puppy, which is a silenced .22 weapon. And I moved him down about 200 yards, 150 yards from where I was and put him on this inside dune and I told him, "When I take this guy out here, I want you to sneak up behind this guy and eliminate him." So the guy comes to the sand dunes. I'm like this, he comes through. I take the butt of my weapon, and I've got the other guy in the corner of my eye. I could see he was way ahead of us and I just knocked this guy cold and dragged him up the beach, then Quan came down and grabbed him and turned him around and he handcuffed him.
And I started crawling down the sand dune line, and I was going like this to Tai to sneak up behind the guy and shoot the guy. Tai stood up and yelled, "[07:23]" in Vietnamese which his stop, come here. This guy's got an AK-47 and he under slings his rifle and starts shooting at Tai. Tai jumps back behind the dune. I get up. I take a long shot and miss, and he started running cause he saw me running after him. So I'm hauling can, and he goes up into the trail up into the woods in the jungle, heading towards that village. He beat me to there, and I got there and he's running down the trail and I stopped on one knee. Took two to press and cranked off two rounds. I hit him in the back and the guy fell. But when I looked up, there was a quick reaction force come with the village with about 50 guys. So I turned around, started running back. Tommy sees me running back. He took one of these [unclear 08:05] and opened it up and he shot it in the tree line. He wasn't trying to hit any of the bad guys. He just wanted to hit a tree to get a large explosion, and it did hit a tree and it exploded and these guys got down because they didn't know what they were coming against.
Well, I'm on the point and these guys were coming in and they were leap-frogging. One group would come this way and they were in three different groups. One was trying to flank us. And what I'd do, these guys would stick their head up, so when they tried to come in a vast thing, I was not going down pretty fast. This firefight lasted for several hours, and I had known that we killed probably over 30 of these guys basically, and these guys made one last blast. Well, they had moved up to the sand dune. They had gotten me kind of pinpointed to one sand dune. I couldn't get [unclear 08:56] guys shooting each way, and Tommy was trying to take some fire down this way and I was on the sand dune. Well, they threw this CHICOM grenade over. So I rolled over. The grenade went off and I was hit like six times in my back. And I yelled and said nothing else and you could hear Tommy yelling, "Mike! Mike!"
So I laid on my back like this and about four guys came over the top of this sand dune, and I shot all four of them. Two fell; one of them fell on top of me. The other one fell down. The other two fell backwards. And I figured that time we had already wiped out more than I'd say two-thirds of their group. And they didn't try to advance anymore. So I looked across this lagoon, counted 75 bad guys coming this way and I look and then there's that many going this way. I look down the beach and I only see Dang come back by himself. I said, "Dang, where's Tommy? Where's [09:47]?" And he says, "Mike, [09:49] dead." I said, "What?" "[09:51] dead." And I said, "Are you sure?" And I could see these guys overtaking the position and stuff like that. And I said, "You guys stay here." And I said, "I'll go back for Tommy." I went back, crossed an open fire, and they were firing at me, and my two other guys were giving me cover fire, and I was shooting guys. And I got in the position where Tommy was last at, and he was lying on the side of a sand dune, and five guys were overtaking him and I killed those five guys and I grabbed Tommy and I put him on my shoulders. And then I heard this [10:17] coming in."
Just as Thornton was making his way back, the ships arrived and began firing at the enemy.
The concussion blew me almost 20 feet in the air and I had Tommy, he was on my shoulders, and his body flew off my shoulders and hit the ground, and I got up and of course this concussion, I heard another [eight-inch 10:40] coming in and I said, "Oh god, it got those guys' attention real fast." So they all fell back, you know, and I went over and saw Tommy and picked him up and he said, "Mike, buddy. The son of a gun was still alive." I didn't have enough time to do any type of first aid. So I grabbed him, picked him back up. These guys saw me running again. Several guys started running around on the ocean side. They were just hauling, I turned around and I fired at them. I looked back and my two boys were still there, Dang and Quan. Quan and Dang had used all their ammunition. They started swimming. I said, "Swim. Swim." They started swimming and I was using the last of my ammunition, and I got to the surf zone and I grabbed Tommy and I put Tommy in the front of me like this and I started swimming like this. And these guys were chasing us and they were shooting and as we swam through the surf zone, you could see the bullets just going through the water, just like you do in the movie. Well, I look over to my right, and there's little Dang over here floundering in the water. He was shot through his right hip and blew off his whole cheek of his butt and he couldn't swim, so I grabbed him, put him in front of me. And I had, I didn't wrap his arms around me like this. I had my arms underneath his arms and he held onto Tommy and I started just breast-stroking and I swam for approximately three, three and a half hours.
Thornton towed his comrades seaward for hours, until they were eventually spotted and brought aboard an American ship.
Tommy got back to Da Nang. They took him to Clark Air Force Base, and his first operation was 19 ½ hour long. They still said he wasn't gonna make it. And that was on October 31, 1972. I had found out I had been put in for the Medal. They said the only time it was really questioned was in front of the Joint Chiefs of Staff, and he said, "How can a guy do all this and still be alive?" And the Chief of Naval Operations, "You tell me how a dead man does it and I'll answer your question, General." And that was it; it was signed and gone through. So I went back on October the 15th to receive the Medal.
I try to tell these kids of how many great sacrifices of people to give you the freedom to be able to do what you're doing today, how many great men and women have lost their lives to honor us, but I think everybody has to sacrifice for something great, you know. Nothing's given to you. You have to work for it. And I received my medal actually going back in to rescue Tommy and I mean we have a love for each other greater than brothers. It's just, you know, until you die together almost and understand what living's all about, then I look at life a lot different than everybody else and a lot of other people cause I live every day to my fullest, which we all do in our own little way, you know.
Wow, what an incredible story. And I can say I agree with the country in honoring Michael Thornton with the Medal of Honor. That is truly some heroic stuff that he did for this country to save his comrades. To run out of ammo and swim with two injured people for three hours. Man, I can barely swim for three hours by myself. It's an incredible story. I am so honored to have him a part of this country, for being on our side, and I'm so honored to have him on the podcast. So here's the interview I had with Michael Thornton, and we will see you at the end of this interview.
This is the 4th of July special. Today I have an amazing guest. His name is Michael Thornton. He has received the nation's highest award for his actions in Vietnam in 1972. He received the Congressional Medal of Honor, numerous other awards and medals throughout his service to his country. Mr. Thornton was also one of the original members of SEAL Team 6. First off, thank you so much for your service. It's a true honor speaking to someone who has done so much for this country, and you continue to speak around this country, reminding us of our freedom and not to take it for granted, and for that and everybody listening, thank you so much. It's a true honor.
Thank you very much. It's a great to be here and I want to thank all of you first responders out there for what you guys do for our country too and all the men and women who serve this great nation of ours to keep our country safe and free.
Thank you. Thank you. So before we talk about progression of your life, do you mind telling us what was your upbringing and why did you want to join the military?
I was brought up in the hills of South Carolina around Spartanburg, SC, and my father was a very, very patriotic family, and he was in World War II. I was, of course, growing up, kids back then, we always played, you know, war games or cowboys and Indians and all that stuff and I saw the movie The Five Sullivan Brothers. Family was very strong, my upbringing with my dad and my mom both and to see that those boys how they risked their lives, which they ended up all passing away. The Sullivan brothers and they all died trying to take care of each other and the ship exploded and sunk. But I just said I'm gonna join the Navy when I saw that and I saw this crazy movie with Richard Widmark, The Navy Frogmen, and I said that was for me. And I knew when I was gonna join the military I wanted to be nothing but a Navy frogman. Of course, back then, nobody knew what a SEAL Team was anywhere.
Now, a lot of people listening to this and this is called Operation Self Reset: Changing the Person You Are to the Person You Want to Be. It sounded like at that time you just knew that this was your destiny to join and to become a frogman, Navy SEAL, what have you. Is that something that you felt inside? Did you feel like this was going to be the career path for the rest of your life?
No, I didn't feel that and you never know. Of course, at that young age you never understand [16:45], and I think your career paths change as you go along. Your destiny, you know, I just knew I wanted to join the military. I knew I wanted to serve my country, and I didn't make up my mind about staying in until after my first four years in SEAL Team. So you just never know and of course as we get older in life we all make decisions and set goals and move forward with your lifetime, so, you know, so even at my age even today things I still do is to help promote this great nation of America and the men and women who serve it so courageously so that we enjoy the freedoms we enjoy so much.
Oh, for sure. And the people listening out there can check out your story about in 1972 in Vietnam and everything like that. It's an amazing story. You did some heroic things. I just have a couple of questions. During that time and it sounded like you went into danger numerous times to rescue comrades and then to get out of the dangerous situation. Is there anything that you went through in the military that you can relate to us, just a regular citizen to improve our lives, to get motivated, to stay inspired, and just to keep on wanting and determining in ourselves to reach our goals?
You know, I think it goes back as a child to my father that you never give up and you never quit no matter what, and we do have every opportunity in this great country of ours to do anything you really want to do. But you set goals, but set goals that are achievable and when you set that goal you set another goal. By setting that goal [18:23] achievable and you get to that position and you set another goal in your lifetime, you know, and I've done that throughout my military career and after 25 years and I've done that out in my business career.
And even at around the age of 65, I still set goals that I move forward with and try to get success with, but the most thing you have to understand is the [another 18:50] aspect is you've got to motivate yourself. My glass is always half full and not half empty. Everything I do I think is something I try to turn into something positive, you know, not negative. I mean, like during Vietnam and you're shot up and you're surrounded and all that stuff. Well, if you just give up you're gone. You're dead. But you always look at the good side, you may have to motivate yourself. I mean, and you have to keep yourself going and you never give up and you never quit. And with the grace of my God, we were able to get out there safely. Four of us were wounded and of course Tommy very severely wounded. But, I mean, he's 70 years old now and he's kicking dirt up in Idaho. So, you know, if I'd have given up at that period of time in my life or any other time in my life we'd all be kicking dirt under the dirt I guess I'd say.
Now, the things you just spoke of—determining goal setting and trying to go through those events—and something that a lot of people listening are never going to encounter in their lifetime. Is that something that you feel is built within you at a young time in your life as a foundation or was that kind of something you feel you can learn? Did the military really instill a lot of those things? Obviously, you said growing up you had a lot of great things, understanding the drive and passion and following through on things, but can somebody learn that or is it only if it's a foundational thing?
I don't think you learn it. I think you grow into it, you know? What do you want to do with your life? I mean, like everybody's not made to be a Navy SEAL, but everybody's not made to be a fireman or a policeman or this, that, and the other. You know, it's something that, you know, you strive upon and you will be successful on like everybody's not, you know, to be a CEO of a corporation or an airplane pilot, you know? Everything in life has got to be your individual decision in life and what do you want to do with that? And I think everybody's book is a different chapter and that's all our lives are are chapters anyway. I mean, after my military career, I went to a business career and did well with that. But it went back to the same things I said before, by setting goals, making mistakes—we all make mistakes—but you don't dwell on your mistakes. It's how fast you can get back up, take care of that mistake, and move forward with it, you know? So you've always got to be positive about life and always take the direction of your life, you want to keep it a positive way and move forward with it. You don't want to go backwards with it.
Yeah. One of the lines that I kind of took from your website, you stated, "Teamwork, loyalty, dedication, and perseverance play important roles in success." Do you mind kind of diving a little deeper into that?
One of my favorite sayings is, "If it's to be, it's up to me" if you understand what I'm trying to say. If it's to be, it's up to me. And nobody can make this happen but myself, you know? Of course, you can have guidance and you can have [unclear 22:10] but the thing about loyalty in this nation is it's getting a little thinner integrity, but, you know, my dad was loyal for 30-something years at the same place he went to because they took care of him and he took care of his people. I mean, we need to be loyal to our country. We need to be loyal in the work ethics of this great nation of ours, so I mean, some people want to take everything for granted. A lot of people in this world they think they deserve these freedoms, and they don't deserve them. The freedoms were written in blood and our freedoms are things that many, many men and women have strived and also given the utmost. They have sacrificed their lives for you and I to enjoy the freedoms to be able to talk today, so don't ever take that for granted.
I believe in giving a hand up and even a hand out to help somebody but I don't believe in living their life for them. I always say I want to help them but I don't want to adopt them. But that's something that everybody's in their [self ___ 23:20] I think looks good for people. I think striving for a better life for you and your family is great for you and by doing that, you know, it gives your kids a mentor for your children or a mentor for a young man or woman that's out there watching what goes on and you pass those values onto them and you're teaching them what you had learned. But you strive to keep those values and move forward with them.
Right. Now one thing you learned in the military and also, too, I kind of talk about in this podcast every once in a while is teamwork, making sure you surround yourself with likeminded individuals. Do you feel that is important to become successful in this country?
You can't do everything by yourself and it's great to have a team working. But you have to have people, to go back to that loyalty, and people who believe, you know, a friend is somebody who's gonna be there with you at the good times as well as the bad times. And you have to have the camaraderie, you know, and the belief in each other. I mean, I knew Tommy would've done the same thing for me that I did for him. So that teamwork and that camaraderie builds that relationship.
Yes.
And that's not just the relationship in SEAL Team; that's the relationship in anything you do. So, I mean, for everybody out there, you want a team, you want a guy or a gal that you can trust [as a 24:38] partner or, you know, as fireperson or a policeman or, you know, you want to make sure you can count on each other and that's something you build up with a trust. You've got to gain people's trust and gain people's respect. You know, I've always said I didn't care if everybody liked me, but as long as they respected me and trusted me, to me that was the most valuable part of it because they knew they could count on me and I could count on them. And that's [unclear 25:07] respect, so that goes back to, you know, I always wanted to be the best SEAL ever and did I achieve that? I don't know. But I always try to do that, you know, and it wasn't just about me. It was about the people around me and I hope I helped motivate them to be a better Navy SEAL.
And how do you motivate other people to get on the same page? What did you do? Did you always just bring a positive energy? Did you always pull people up when they were down? What did you do to motivate others?
Well, I think you do it by example. You know, the thing is when you motivate people you've got to lead from the front. You can't talk the talk; you have to walk the walk. I never asked anybody to do anything that I wouldn't do first or I haven't done, and I'd lead from the front, you know. And depending on whatever that was, you know, if it's PT or an operation or anything like that. I'd let them know that I was out there with them and that we're gonna do this together. It wasn't just about me doing it by myself. It takes a team effort, but also you need to motivate them because I mean who wants to go out being shot at with somebody you don't trust or you don't think that's gonna be there to watch your back or anything else?
So it's just something that you learn about each other by training together. As you said, by motivating each other and sometimes there've been people who have motivated me when I was kind of down in the dumps, like my shipmate or my friend or my comrade where he stopped and motivated me and got me back in the right frame of mind. So I mean, that's something we all have to do and understanding people and their lives and the way their life is and who they are. To me, a friend is, like I said, with you in your good times and your bad times [whatever's dealt out 27:02]. But you can get through the bad times and go back to the good times.
Great points. If I was to come up to you, if I had known you for a long time and I was never in the military—that personally didn't interest me—and I was kind of struggling with my life and I asked for your guidance, and maybe somebody has come up to you and asked you the same question, but what would you say to them to kind of put them on the right path, the right path to success, to believing in themselves, and all that stuff. If I just had nothing, I had a bad background, things weren't going well in my life, I was just really down—what would you say to kind of put me and start me in the right direction?
Well, I'd say structure, you know, and making decisions and setting goals. But structure's good for kids and young people and guidance, having somebody, you know, but when you try to give somebody guidance and structure they've got to want to help themselves. You can't anybody that doesn't want to help themselves or better themselves, if you understand what I'm saying.
Yeah.
You know, so you've got to get them motivated and give them structures and let them go down their checklist. They get there, then you give them more guidance and more structure, you know. The military was great for me. You know, was I a perfect kid and am I perfect now? No way in hell. But, you know, the thing is the structure was there by the military. They had rules and regulations just like we had rules and regulations in my home when I grew up in my house. You made your bed. You did this. You did that. You brushed your teeth and you know, blah, blah, blah. You know, you went to the church with your mom on Sunday no matter if you wanted to go or not. I mean, that's just, you know, but there was structure in your family just like there was structure in the military and there's structure like being a fireman or a policeman or structure in corporations and organizations, you know?
So, you know, the structure is there and I don't know what you want to do with it; that's got to be your decision and how far you want to go with it's got to be your decision. Like I said, it's a lot easier doing something with a positive attitude to move forward and by having a positive attitude you motivate other people to get to that positive attitude. And we're working as a team, you know, it's a lot longer than working by yourself.
Good. Very true. Well, if I was listening to that I think that would really put me on the straight and narrow. So that's good advice. Thank you. Now, one thing that I want to kind of dive back into the events in Vietnam in 1972 when you did receive the Congressional Medal of Honor. There was a point at the end of the battle where you and your crew ran out of ammunition and your last ditch effort was to jump in the ocean and start swimming, and what was really just mind-blowing to myself and I personally was just amazed—you swam with two injured comrades for two to three hours, is that correct?
That's correct.
Now, during that time, you're in the open ocean, you're swimming there, they're relying on you. You're the only guy. You're also injured yourself. What was going through your head at that time? I can only imagine. You really had to be the strong person in that environment, the positive person, the keeping of, "You know what? We're gonna get rescued. We're gonna get saved. Everything's gonna be okay," because those two gentleman that you were with were not doing too well. Do you mind kind of telling us what was mentally going through your mind?
Well, it goes back to that thing I talked to you about before that you never give up and you never quit, you know? And so you keep that mental attitude, but you've got to keep yourself positive about it. You know, that, "Hey, we're gonna get out of this. Hey, we're gonna make it happen no matter how bad the odds are, you know?" The thing is we were out past their line of fire. We were out so far out at sea that they couldn't see us, and they didn't know where we were going or what we were doing. I think they thought we were all dead. I really and truly feel that because we didn't inflate any life jackets, and the sea state was big enough that, you know, rolled tops. But the thing is I knew I didn't want to swim north. That would just [30:56] and back country. And I know everybody, we knew that we were way north of our position, so I said, and I remember Dang, he kept saying, "Mike, what do we do? What do we do?" I said, "We swim south. We swim south." "Well, what do we do when we get tired?" "Well, we float." You know?
Sure.
And at nighttime we'll go and rest, but my biggest fear was that Tommy had that bad head injury and had lost part of his, front lobal part of his brain and his eye and he was going into shock. I knew that if we didn't get medical help soon for Tommy, you know, I didn't know what we was gonna do. I said, "They'll pick us up." Cause we always had a belief, you know, we always had this great friend of mine, Woody Woodruff, was a Navy SEAL that was on the insertion and extraction vehicle and I knew Woody wouldn't have given up to find us just as we would've done the same for him. It goes back to that trust, that camaraderie. You know that help is coming and it'll get there, you know? So we swam and like I said, I just kept that positive attitude that things would get better. You know, it couldn't have gotten much worse.
Right. Right. Wow, seriously, that.
But is that mental toughness, you know? Of course, I was in great physical shape and I'd gotten [32:15], you know, and I'd been trained to be a great swimmer, but you've got to have that mental toughness, you know, no matter what and you've got to keep those guys motivated cause they could have easily said, "I'm gonna give up. I'm gonna swim back in and give myself to the NVA." You know, you've got to let them know there's something, that something's gonna be better on the other side. We're gonna make it. Just keep them, cause Dang was wounded, of course Quan and Tommy and myself were all, all four of us were wounded, so just keep them motivated and keep them moving.
That is truly a motivating, inspirational, amazing story. For you guys listening out there that have not heard it, feel free to go to the website. I have everything on there. To kind of switch gears, now when you hear Navy SEALs in the news and the media because of the movies and because they eliminated Osama Bin Laden, obviously you must be very proud. How do you feel when you hear about your old position being talked about in the media?
Well, I don't like it in the media. To me, a Navy SEAL is always a covert operation. To me, the respect you need or the attention you need is from your peers. There's nothing better than to say, "Hey, Mike, great job," or something like that from the peers of my people. But a lot of this other stuff is people are doing it for self, to make money and other stuff. I'm proud of the guys. I'm proud of what our young SEALs are doing. I think they're the best of the best in the world, and I think they're a lot smarter and better than me. But I think all the years that we did we built on this thing about SEALs. I mean, nobody even knew about SEAL Teams until the early seventies and, of course, we still kept a low key until all the stuff came out. You know, people would hear about SEALs, but there was not a whole lot of books being written and stuff like that. But now, with, of course, Osama Bin Laden and our president coming out and doing this, I mean, you know, to me you have to have OPSEC and what you have to worry about is that you're not just jeopardizing who you are and the SEALs but you're jeopardizing the families, you know, loved ones because terrorism, what's the worse thing that could happen to you? Somebody take out your family would be the worst that could happen to me, you know?
Right.
And, you know, there's only so many places that the Navy SEALs are. So I mean, anybody that's got plenty of time and there's no time limit on these, the terrorists that are going, so they're just standing by to do something and the propaganda and basically, so to me I think for us to continue being Navy SEALs but keep the OPSEC and also the, you know, be proud of what you've done. Be proud of each other. You know, the attention should be, like I say, from your peers and stuff like that, but I don't think we need to put it out there for the world to know about it. That's just my opinion. That's just the way I feel.
No, no, understandable.
I want to go back. I'm very, very proud of each and every one of them.
Yes.
And actually I'm out here right now on the West Coast with the teams out here and I talked to all these young kids out here and some of the older guys that I've watched come in and they've been in for 25 years and I've watched them grow through their careers. And one guy, he just changed command and been there 30 years. But I look at all these young kids that I've had the opportunity to meet and talk to and I'd say I'm proud, very, very proud of all of them.
Oh yeah. I imagine. Now, like you just stated, you do travel around the country and do speaking engagements and everything like that. What is one thing that you're seeing in this country, a strength? Even though our economy is down in the dumps, what's one thing that you're finding around this country—are people uniting more than you realized a couple of years ago? Is there any transformation you're seeing out there?
Well, I think we have a different way to look at our men and women in uniform, which I think that's the [36:33] not like it was after Vietnam, you know. But that is what it is and I think more and more people are reaching out to try to help these young men and women, you know, that do sacrifice and do give the utmost. I had a bunch of gold star mothers and wives here, you know, and just understand that they're there to help support these guys. But, you know, they've lost their loved ones or their sons and, you know, and what they're going through, you know, so I see a better, a support united from the population of America, I think.
Our government could help support them a lot better just like I think a lot of things. I think we need to re-look at what's going on in this country, you know, and, but, you know, all in all, I think there's a more patriotic, patriotism and not just to the men and women in uniform but also your first responders, the police officers, the firemen and stuff. We understand what they're gonna go through and their sacrifices they make. These first responders, I mean, just like in Boston or 9/11 or the firemen we lost down in Charleston, SC, like that. They're there for the betterment of the community and the state and then also their nation, so I'm very proud, they're all my heroes. Actually, you could serve this country in so many different ways without putting the uniform on. You can serve it because it is the greatest country in the world, and you're doing what you're doing because it's the right thing for the right reasons.
For sure. You gave some great information, great tips people can use to transform their lives. Thank you so much for joining us. I just want to ask one last question. You said some great tips in this interview. Is there one tip specifically that you keep falling back on or just keep telling the people that you meet out there and do you mind sharing that with us?
Well, yeah, the thing is never take this country for granted. Remember the millions of people that have sacrificed the utmost for us to enjoy our freedoms. Never quit and never give up. Then when things look down, turn it around and make it positive because things, you know, things will always get better, but only one thing you have to be responsible for your actions and you have to make it better. Like I said, everybody, there's a lot of people out there to help you, but you've got to want to help yourself first so you never quit, you never give up on yourself. You move forward by being positive with yourself. It will make your family better and your community better and everything else around you better, makes it a better place to live.
I agree with you 100%. Never give up. So true. Mr. Thornton, thank you so much. It's a true honor to have you on here on this podcast. Thanks for all your service, all you've done, and all you continue to do for this great country. I do appreciate it and appreciate your time.
Well, thank you for your service and all you guys back there in Milwaukee and hope to see you soon, my friend.
I know everybody that's going to be listening to this is going to get so much amazing information and we'll just keep in touch and safe travels.
All right, buddy. Thank you very much.
No problem. Take care. Bye.
Wow, there were some amazing things said in this interview, but the one thing that I truly gained from this was the comment when he would always say, "Never give up." The way he said it was just so empowering. It really makes me just want to continue. Just keep on. The drive is there and keep on kicking butt day in and day out. Because Michael Thornton has given so much to his country not only in his military service but also even today flying around, giving speeches and motivating people and telling them how great this country is. I want to do something great for him. I want to send him a letter, but the letter I need help with. I want you guys to go on over to OperationSelfReset.com/podcast010. At the bottom of that article is a comment box. Please write something that you found great about the interview, a tip you learned, or you just want to say thanks for your service, thanks for everything you've done, whatever it may be. I want to send him a compiled list of all these comments and let him know how many people have truly received something from him coming on this podcast. I think that'd be great. It would be kind of something unique and, like I said, he's done so much for us. If you could just take two minutes, go to OperationSelfReset.com/podcast010. Leave a comment. Let him know, just thank you. If nothing else, just a thank you. And that's it.
I want to leave you guys to have time to spend it with your family and friends, and you know what? When you're throwing back that hot dog, brat, or beer or maybe all three of them at the same time, take a second and realize why you have off today. Realize why you're able to just sit at the park, sit at home, sit on the beach, whatever it may be, and enjoy this moment. Because freedom is not free and for everybody that has done something for this country, from the bottom of my heart thank you so much. Enjoy July 4, 2013. Make it a great one and we will see you guys in the next episode and thank you so much for being a part of Operation Self Reset. I am truly blessed to have each and every one of you listen to this. God bless America and God bless you. Take care.
[/spoiler]

Leave Me a Voice Message with your Questions or Feedback…!
If you have a question you'd potentially like answered no matter if its constructive criticism, praise, or just feedback in general, feel free to visit my voice mail page to quickly and easily leave me a message.  You can also always send me an email at jake@operationselfrest.com; I will get back to you as soon as possible.
I Need Your Help, Please!
If you haven't already I would appreciate it if you took a second to leave a quick rating and review of the podcast on iTunes.  All you have to do is click on the link below!  It would be extremely helpful for the show and greatly appreciated!
Please leave a review for OSR podcast
Thank you for your support!